60 years of Laude with Engineering
A sketch from Engineering
What is Laude's secret to a successful 60 years? Listening to stories from people who work there reveals their experiences and what makes Laude so special. We talked to Klaas Siersema, who works in the company's Engineering Department.
Aligned with each other
Klaas is the Head of Engineering. Together with his colleague Reinoud Ringerwöle, who works as a draughtsman/design engineer, he produces all technical drawings of the final cheese moulds and the individual production parts made in the factory.
'It's very normal for people to stay here for a long time, though,' he says. 'I arrived as Head of Department in 1991, even though there are only two of us. In the beginning, we still produced pencil drawings on those big tables. I was allowed to automate that process to AutoCAD. Since I was already working with that software at my previous employer, I was able to use my experience to implement it here. At first, that meant a big change for my colleague.'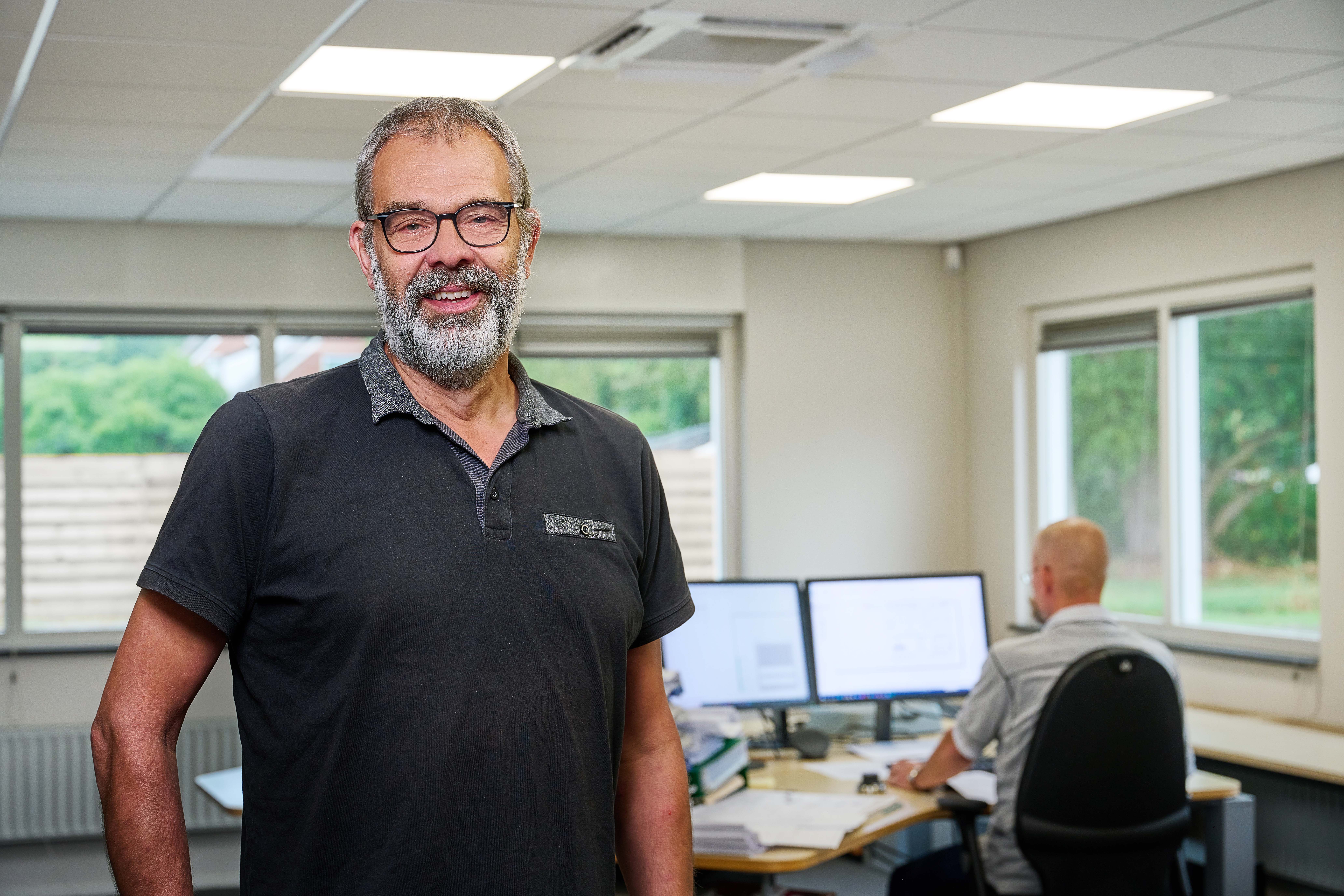 Klaas Siersema
A strong partnership
It is clear that everyone in the company works well together and the Engineering Department is no exception. Klaas and Reinoud have a good division of roles. 'Our different strengths complement each other really well. This is something that has developed over time. I mainly work on the initial phase of putting a design on paper. Offers are based on those initial drawings.'
If the offer results in an order, his colleague works out the drawing in detail. That involves accurately recording how everything will be made, including the exact dimensions. 'When the drawing is fully worked out, they start working on it at the factory. If something is wrong with the design, they contact me. We then consult everyone involved and come up with a solution together. We record all of that so we can avoid the same happening next time.'
Proven quality
After digitizing his department, Klaas was asked to help with the company's ISO 9001 certification. 'That was quite a big job because everything we do had to be recorded in detail on paper. That contributed hugely to Laude's structure, and we're still reaping the benefits today. In order to celebrate the ISO certification, all the staff went on a sailing trip, mooring on Vlieland. It was great to have that level of appreciation. We achieved something together and celebrated it together as well.'
Alongside his role as an engineer, Klaas was also appointed as Quality Manager. The two roles were easy to combine until the takeover of Tetra Pak in 2016. 'As the workforce started growing, we thought about whether someone else could take over those tasks from me,' he says. Nowadays, Klaas only conducts the internal audits in order to show that the system is in good working order.
Designing in 3D
Like the rest of the company, the Engineering Department is constantly developing. Nowadays, it uses a programme that produces models in 3D. 'We're actually drawing less and designing more. We use the new software to design a product. The programme produces drawings from various perspectives. We can add things as necessary.'
There are several advantages to design in 3D. For instance, salespeople can show 3D models to customers on their tablets, which makes it a lot more tangible. 'On top of that, the programme helps prevent errors because conflicts are flagged up automatically,' Klaas adds.
Fantastic developments
When asked what the future holds, Klaas smiles. 'Yesterday I produced a design for a British company that manufactures vegan cheese. Working on projects like that is quite special, and it requires a different way of thinking. The opportunity to serve a different market is a brilliant development for Laude. It's a great reason to stay here a while longer,' he concludes.
Back to list