60 years of Laude Cheese Mould Production
Production in shape
An extraordinary company in terms of what they do and make: that's Laude. The fact that the factory has been around for 60 years is thanks to the many people who have dedicated their working lives to the company over the decades. To mark the anniversary, we spoke to Laude's people. Harm Groen, Jeanet Koops and Jan Kuper work in the company's Production department. They talk about their work and experiences at Laude.
It's the people that make Laude
In almost every conversation with Laude's people, it is clear that they truly are part of the company. Harm, Jeanet and Jan are no exceptions: together, they have worked for the company for over a century. Harm has been employed for 33 years and builds the set-up tools for the vibration welding machine. Jeanet sews cheesecloths and helps out in the Production department when necessary. She has worked at Laude for 28 years. Jan has been employed by the company for 45 years and works in the CNC department.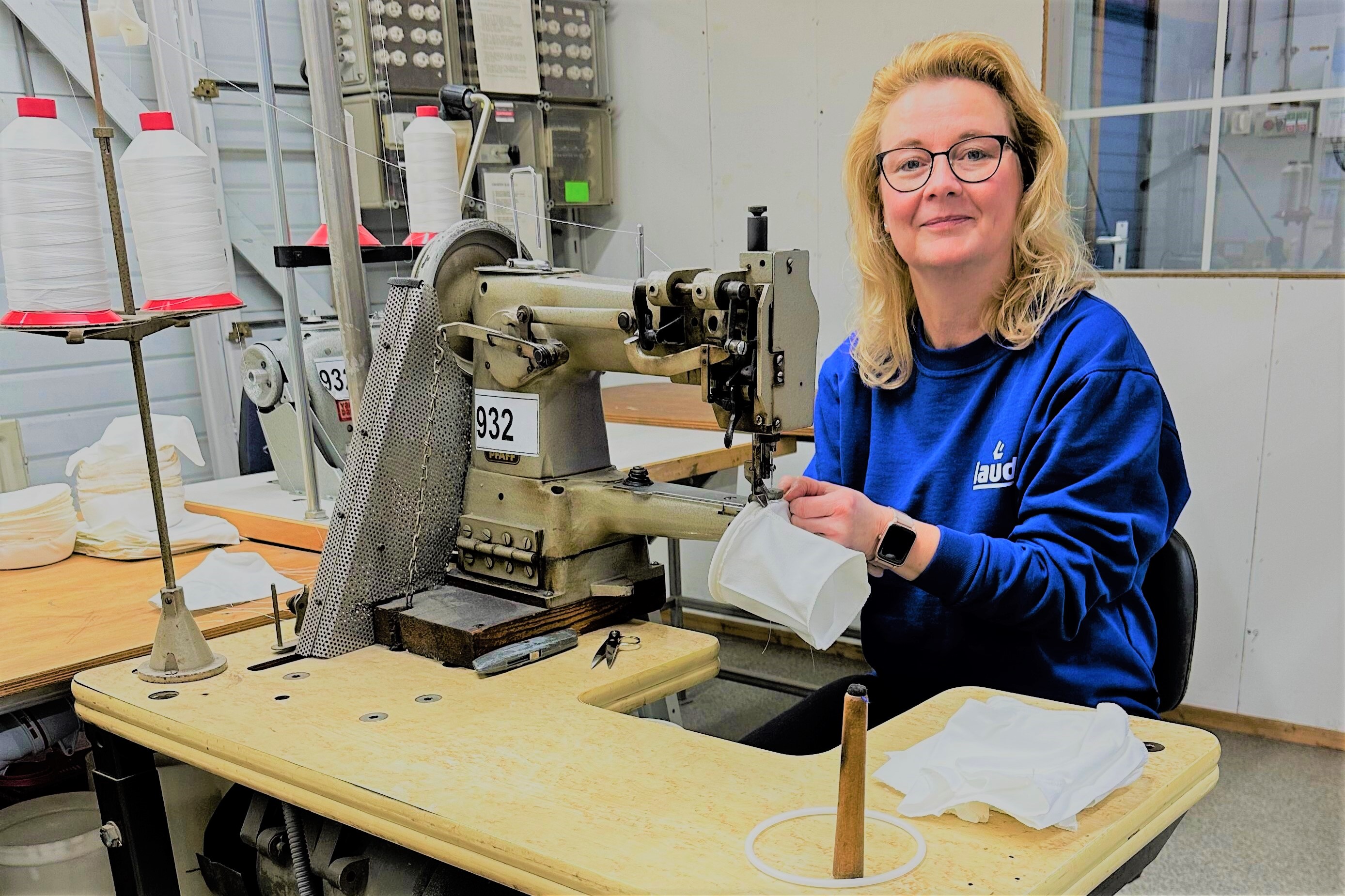 Jeanet Koops - Cheese cloth department
Precision work, robots and machines
The company uses shift work to keep the factory running from Monday to Friday. Jan works as a shift worker: 'Before I started here for real, I just came in the holidays. Back then, the company was still in a concrete warehouse. Later, we moved to a building that had previously accommodated a clothing company and we eventually ended up here.'
He continues: 'Nowadays, we work with CNC machines, robots and other devices. At the beginning, when perforated moulds were requested, we did that by hand. I was given a round plastic mould with a lamp under it and two Ø0.5 mm drills. The lamp under the mould helped me see exactly where I had drilled the holes. I actually had to work with those two drills all day long.'

Eldo Venema - Sawing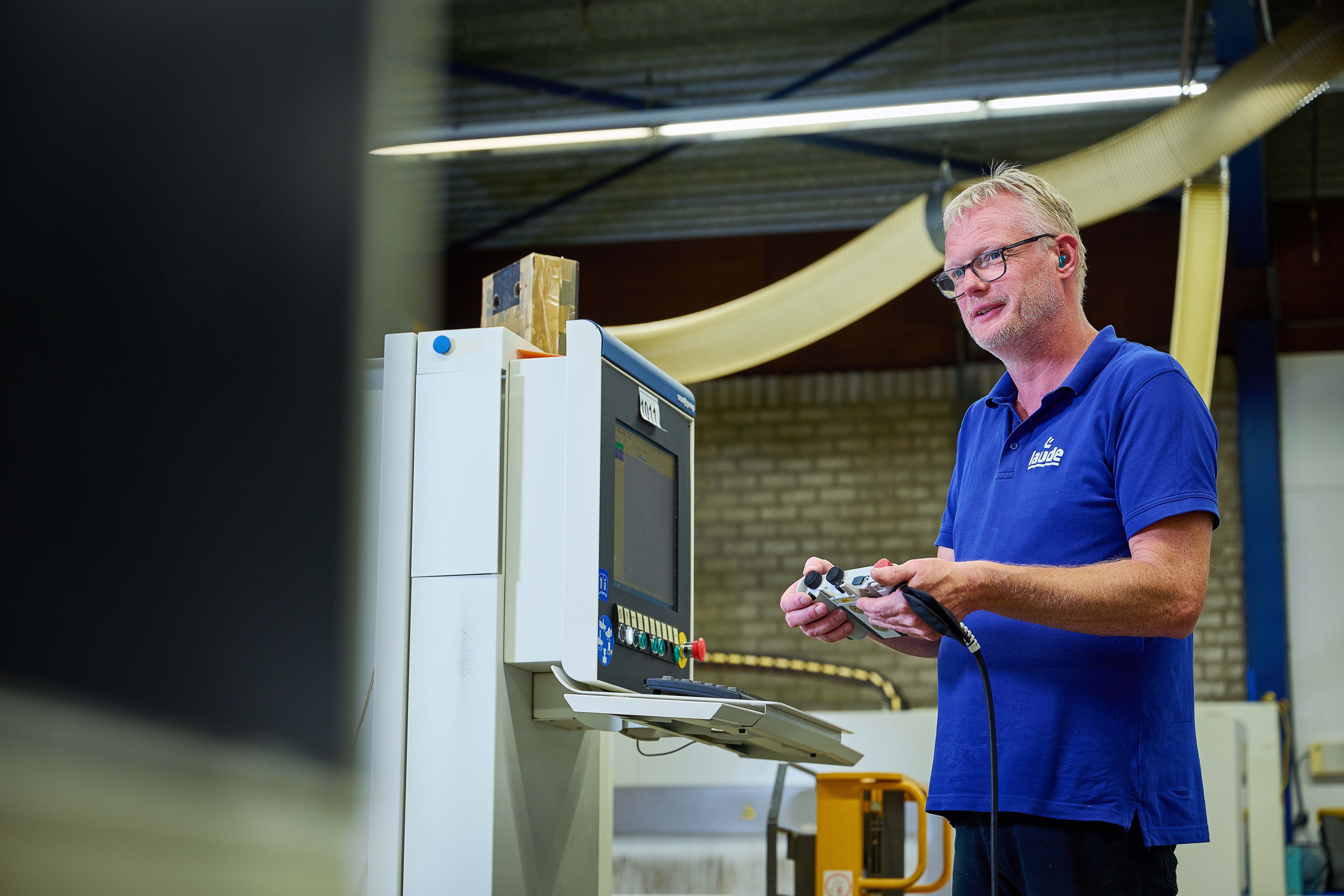 Theo Meems - CNC milling
Tools for moulds
Harm builds the set-up tools for the vibration welding machines, which are used to weld individual parts of the cheese moulds together. 'I use a drawing to ensure the correct dimensions and to check that the tool has been built properly. I note down how the tool is built and add photos – even if something goes wrong, so we don't make the same mistakes next time.'
'I arrived here 28 years ago,' Jeanet explains. 'Before then, I worked at a clothing company that went bankrupt and I was able to start working at Laude straight away. The atmosphere was good right from day one and so was the work. To begin with, there were three of us and now I am the only one here who makes cheesecloths. That's partly because there's less demand for it and more demand for microperforated cheese moulds, which simulate the structure of traditional cheesecloth with grooves in the plastic. When I'm very busy, my colleagues help me out and vice versa.'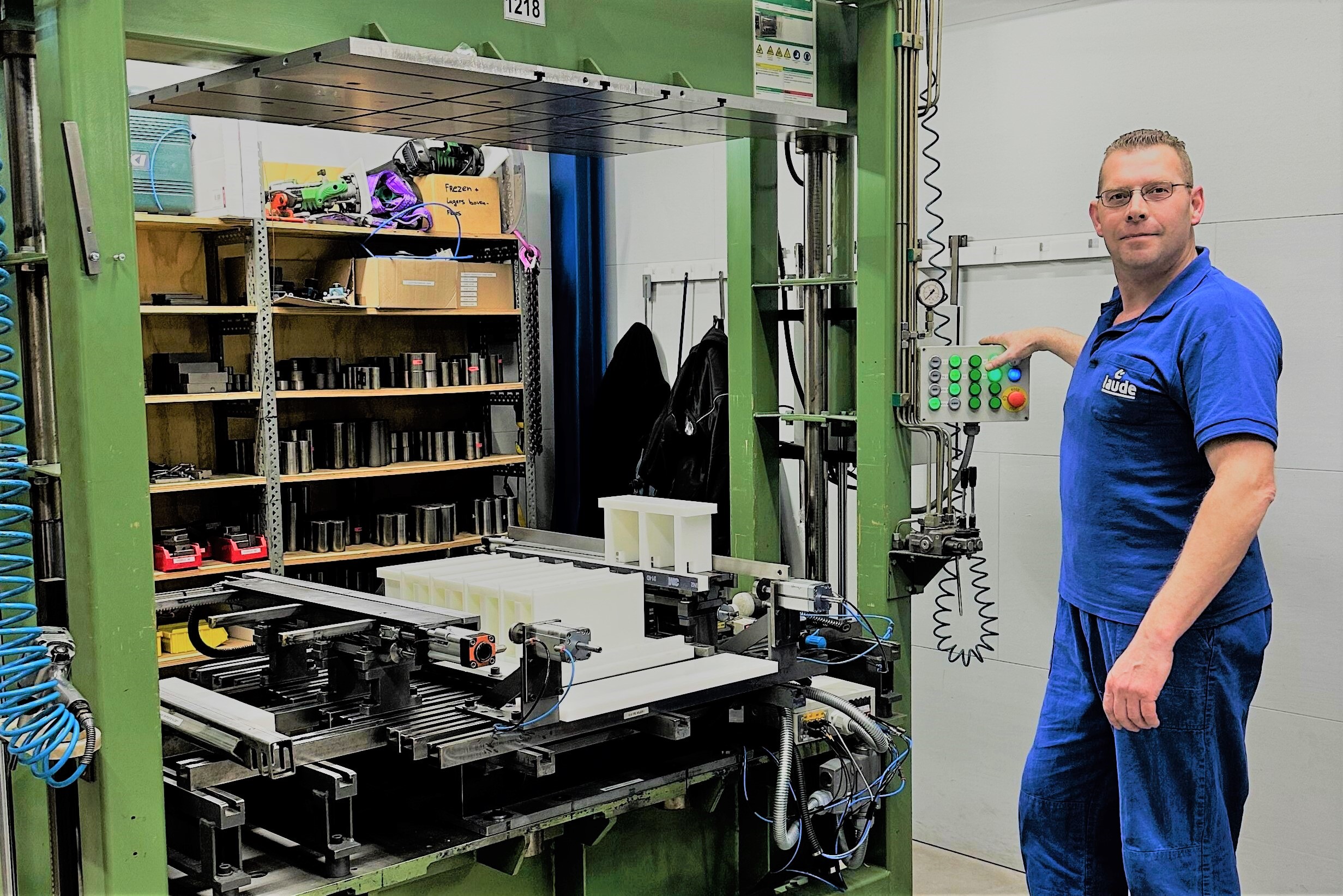 Harm Groen - Vibration welding test set-up
Unique knowledge and machines
The factory's operations are unique. As Jan explains, 'Our operations have evolved over the years. It all comes down to experience and you have to have a feel for the work. Our processes aren't written down in a manual.' The unique machines they use are key to their work. Many machines are custom-made and not replaceable. There is a second vibration welding machine, for example, but not all machines have a backup. If they fail, they need to be repaired as soon as possible so that the entire the production process does not grind to a halt.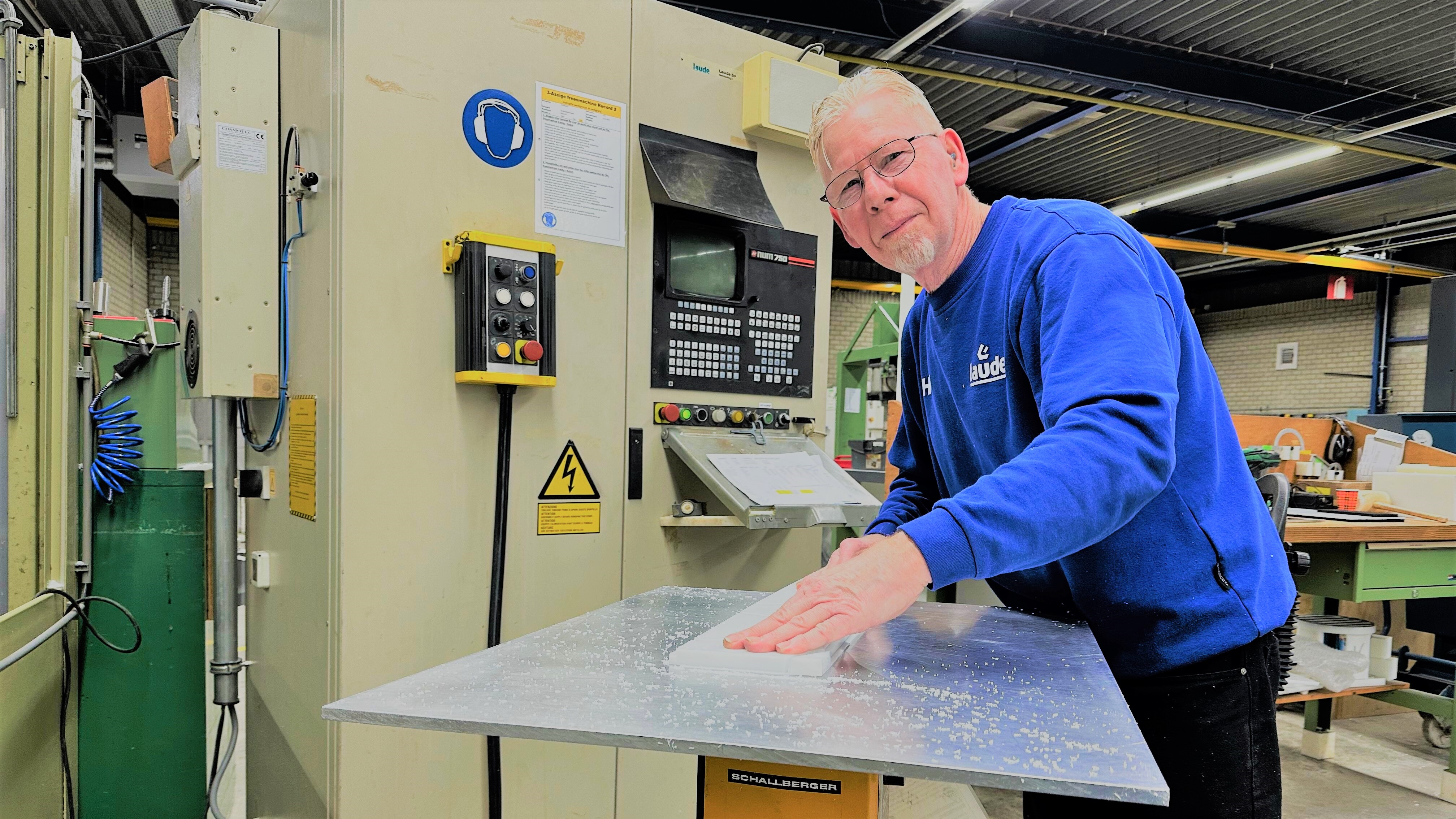 Jan Kuper - Milling
More than just work
There is a great atmosphere within the company. People know each other and know what to expect from one other. The same applies outside of work. Harm recalls that the company once took all its employees to the cheese market in Alkmaar and Jeanet remembers a trip to Amsterdam. 'We took a bicycle tour of Amsterdam – all the staff cycled on bright yellow bicycles.'
Due to their experience, they even recognise cheeses made using Laude cheese moulds. 'We once produced cheese moulds in the shape of a clog. The cheeses made with those moulds are still sold at Schiphol Airport today,' Harm says. Jeanet adds: 'Once, my son wanted to give a speech about my work. I bought an Edam cheese, which was spherical and waxed in red. When I peeled off the red wax, we could notice my own stitching pattern on the Edam cheese, which I use to sow the cloths.'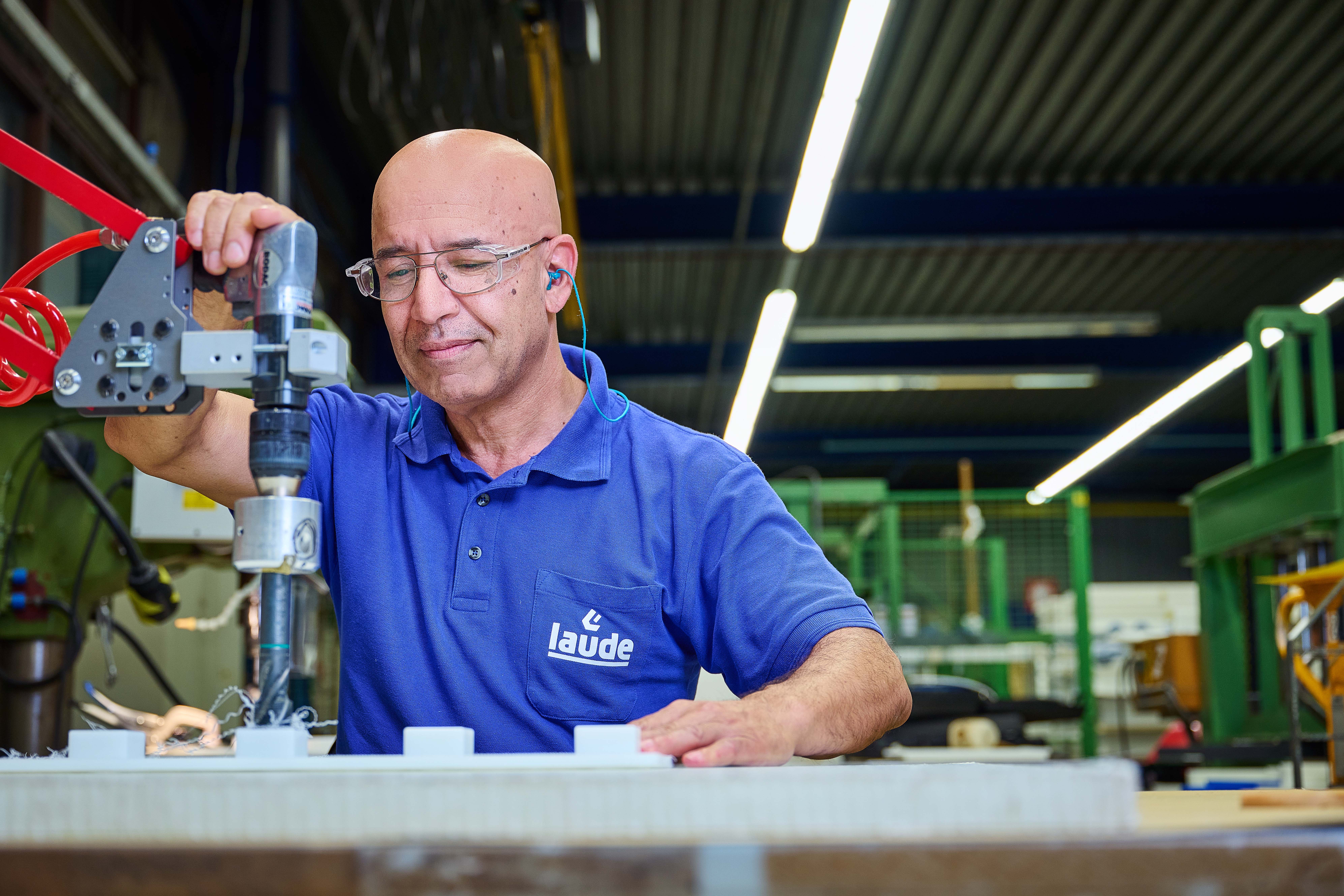 Rashid Mohammad - Assembly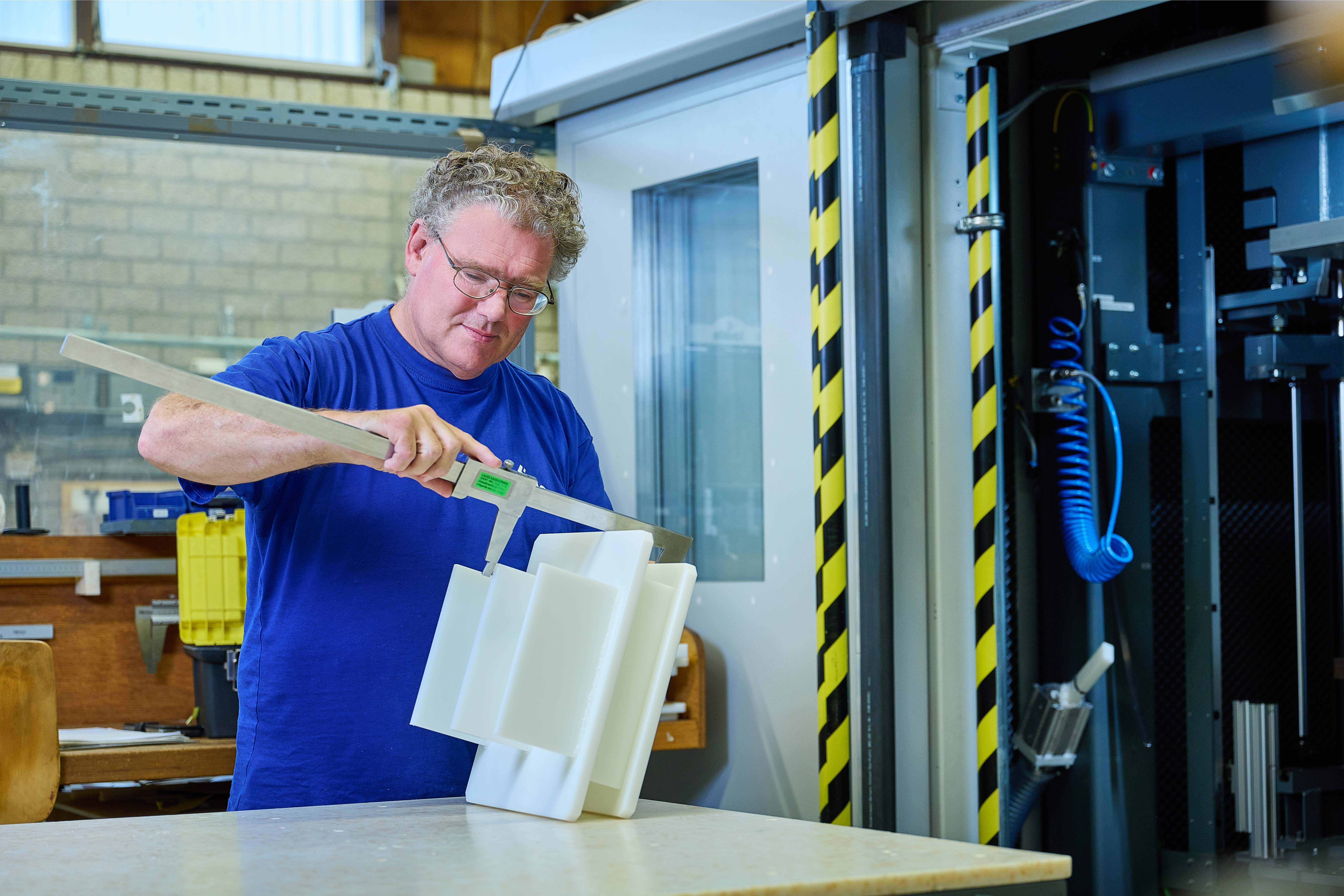 Imke Bultstra - Vibration welding
What does the future hold?
'I want to continue working for Laude for five more years and then I'll be done. By then, I will have worked here for 50 years and I hope to retire,' says Jan. If it's up to Jeanet, she will continue working here for as long as possible. 'Though my working area is depending on the number of customers who keep producing cheese in a traditional way, by using moulds with cheese cloth. I'm very experienced and I enjoy showing what I can do, so I hope I can keep on doing this for a while longer.'
Many other colleagues, including Harm, mentioned the interesting projects Laude will be working on: 'We always have enough work to do and we continue to innovate. I'm very interested in the product development for vegetarian meat and I hope to gain lots of new experience in the future.'
All three employees agree that the work is never monotonous or boring and that every day at Laude is different. And that will no doubt remain so in the future.
Back to list