60 years of Laude with the Production Office
From idea to product.
Who is in the best position to talk about 60 years of Laude? The people who work here, of course! Together, Richard Hofma, Erik Kluin, Harry te Velde, Stef Akkerman, Harold Moorlag and Trijnko Uil, run the Production Office. They talk about Laude and their experiences over the years.
More than a century
In total, the six gentlemen at the Production Office have a combined experience at Laude for over 100 years. Richard has been with Laude for eight years and Erik has been a permanent fixture at the company since 1994. Both of them are Production Preparators. Harold, who will celebrate his 25th work anniversary next year, is a programmer for the CNC machines. The Production Management team is made up of Harry, Stef and Trijnko, who have been with Laude for 8, 5 and no less than 37 years respectively.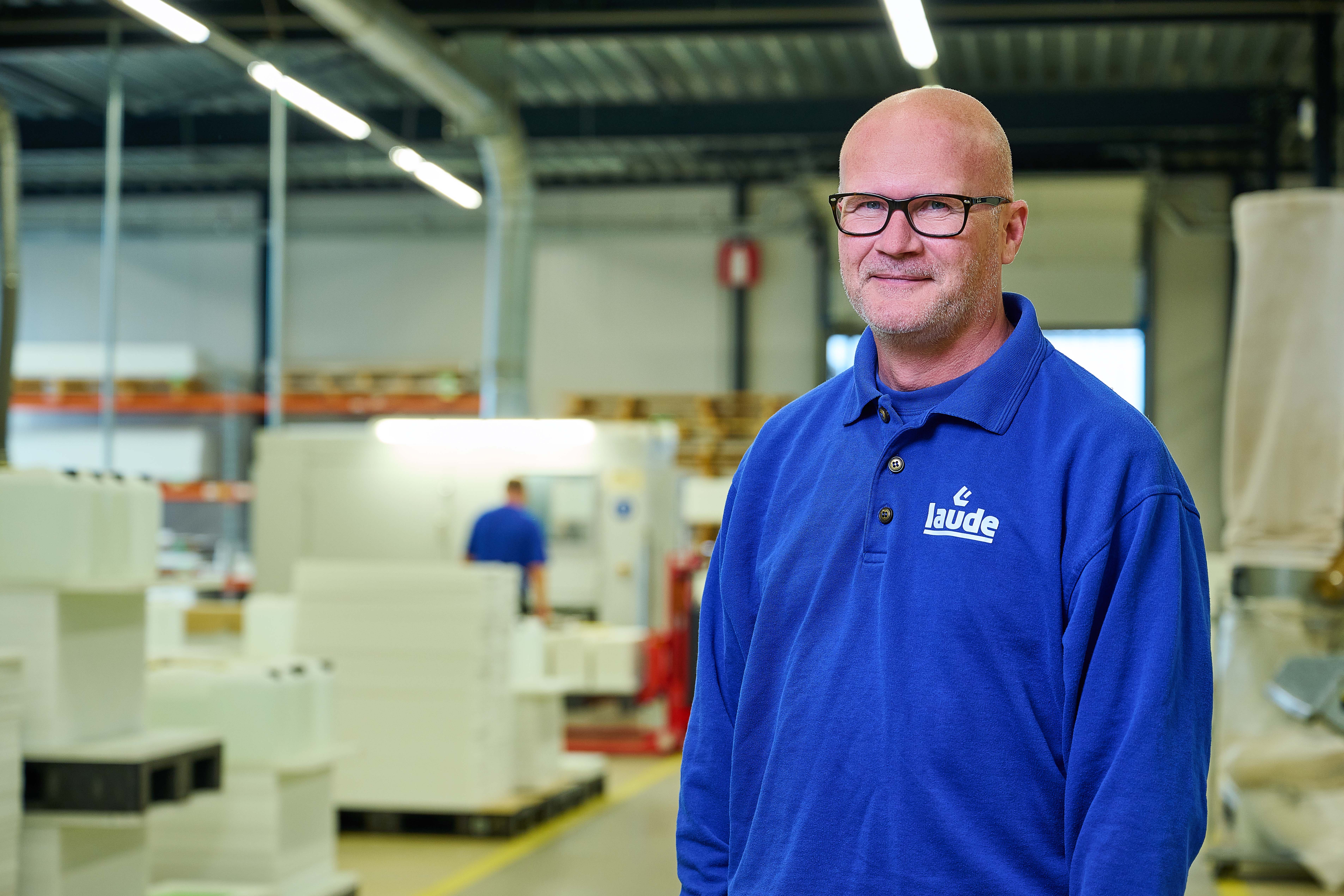 Erik Kluin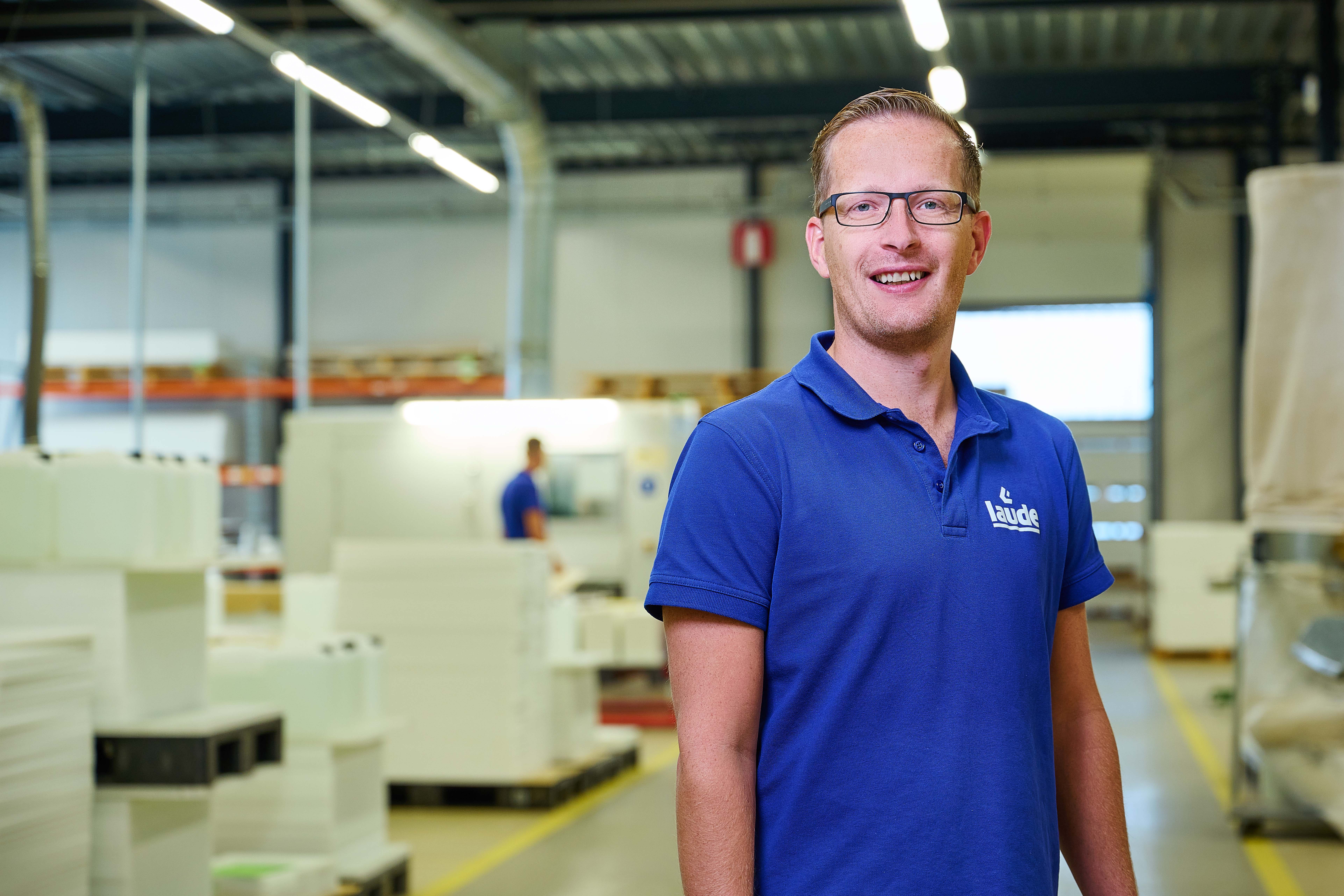 Richard Hofma
Looking back
'When I arrived, everything looked very different. The factory windows were covered and at the top of the hall there was an office in a container with windows. Back then, we still worked with a tube system for post,' Trijnko says. Production machines are usually developed within the company itself. Some of the machines are old and constantly require improvements.
Richard: 'Before I joined the company, I worked in the furniture industry, where we worked with a specific sawing machine. When I came here, I noticed that we were working with a much older machine. While our colleague who operated the machine was very skilled, the machine just had to be replaced. When he retired, it was the right timing for the old sawing machine to go too and we bought a semi-automatic sawing machine.'
'The old machines are continuously updated with new techniques. This allows us to constantly develop rather than stick to the same process for 30 years simply because we've always done it that way. We get new requests in all the time, and our company accommodates these requests well,' Erik says.
A great atmosphere
On the shop floor, it is clear that Laude's people are well matched. The gentlemen confirm that there is a good working atmosphere. Harry: 'There's a friendly atmosphere. People work hard and the management style is simply about asking questions and discussing things together. All the different departments talk to each other. If there's a problem, we quickly get an engineer, sales employee and people from production together to find a solution.'
The good working atmosphere is probably also why almost everyone stays with Laude for such a long time. 'Temporary employees quickly become part of the team as well. We make sure to involve them and we don't let them sit on their own in the canteen,' Harold says. 'We do specialised work, and so we depend on each other,' Trijnko adds. 'The main strength of the company is our ability to work together.
Commitment
The conversation reveals the various levels of commitment at Laude: commitment to projects, commitment to products and commitment to each other. 'New developments for special projects require a lot of commitment. If we're going to make something we've never made before, it's important that we involve everyone in the process. This joint commitment allows us to quickly switch tasks, adjust and develop a pilot model for production. We always manage to pull it off,' says Erik.
Harry continues: 'We have lots of positive, proactive colleagues here. Everyone thinks in terms of solutions. Things occasionally go wrong, of course – even in production. We might get a measurement wrong or there might be a miscommunication. But there's no blame culture here. Instead, we work together to find solutions.' Stef adds: 'People's mindset – that's what it's all about. That really is Laude's strength.'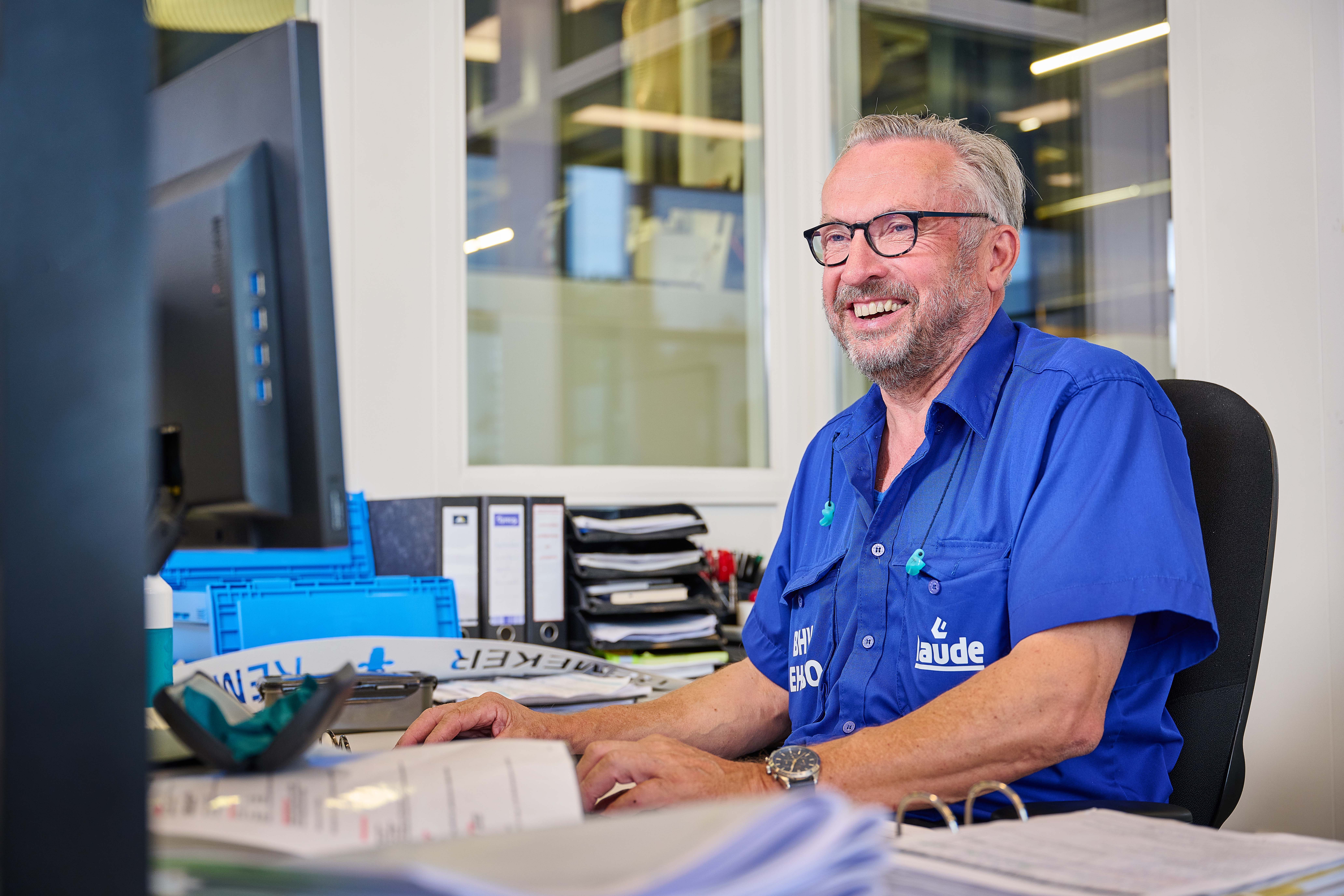 Trijnko Uil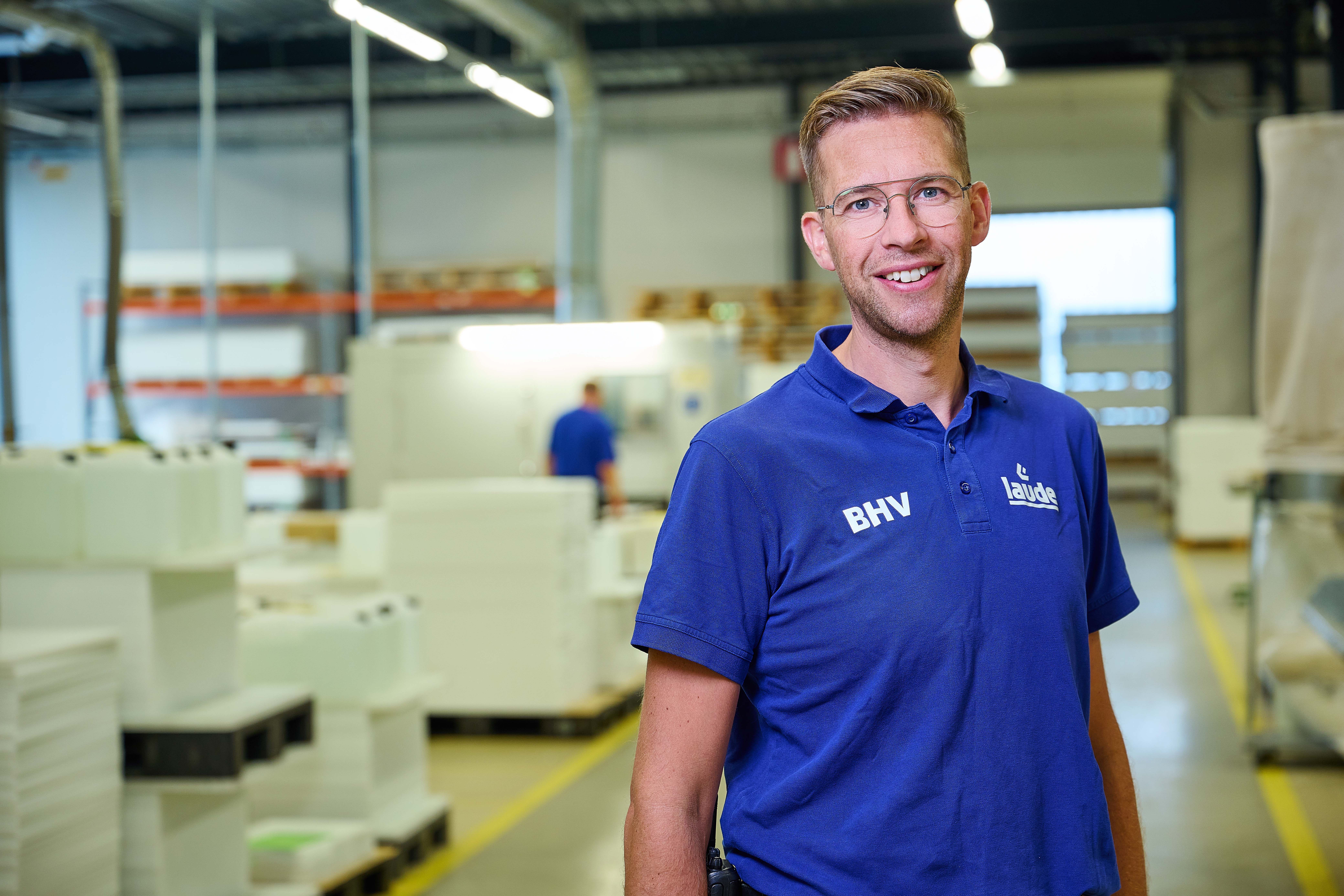 Stef Akkerman
Food = a good time
While some people have 'only' been employed here for a few years, others have worked for Laude for several decades. And they have plenty of stories to tell. Harold: 'We have an active staff association, which really helps the positive atmosphere. We're actually quite serious when it comes to the work itself,' he says, as everyone bursts out laughing.
'The outings with the staff association are always very memorable, as are the things that happen on the production floor. Back in the day, we used to heat up rookworst [typically Dutch smoked sausages] in the factory. There's a big vessel used for cooking plastics and we heated up rookworst in there.
Or some people heated up pizzas in the ovens used to deform plastics. Those smells spread through the whole factory,' Erik says. 'Eventually, we got a microwave in the canteen, so there was no need for those antics anymore,' Harold adds with a smile.
When someone in the factory turns 50, we bring in a traditional Dutch 'Abraham' or 'Sarah' doll, and if we have to work overtime, we're provided with fresh sausage rolls and pain aux raisins from the bakery.
Harry te Velde
Harry: 'When the company manages to secure a large order, we're all treated to a Chinese buffet. The summer barbecue is always a big success as well. Most employees bring their partners with them, which is nice.' Trijnko: 'Laude occasionally used to go to a trade fair in Cologne. One time the entire staff attended, and we were allowed to use the company's credit card. The first thing we did when we got there was eat, and only then did we explore the trade fair. That trip really showed that everyone is equal.'
The outlook
Laude is focused on the future in more ways than one. The company is always evolving and looking for new techniques and markets to dive into. 'We are increasingly manufacturing products that are totally unrelated to cheese. We've been making production equipment for meat substitutes, for example,' Erik says, 'It's nice to be part of that development.'
'Over the last 25 years, products have become larger and more complex. Development is a constant process,' says Harold. 'Working here is great,' Trijnko adds. 'No two days are the same, and you never know what you'll be doing tomorrow. Despite the fact that we work to a schedule.'
One thing is certain: the Production Office employees plan to stay with Laude for some time to come. They all agree that the company's main strength is teamwork.
Back to list